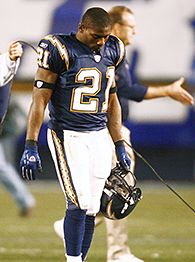 Tomlinson is averaging less that 20 carries per game this season. I truly believe, if you give that man the ball 20-30 times a game, good things can happen. We are nine games into the season, and LT is still not on track. The offense is having an identity crisis and lack the confidence that they can move the ball at will.
There was a consensus in 2006 that with a first time starter at quarterback, the Chargers were going to lean on Tomlinson and the running game. Fast forward to the start of the 2007 season and everyone expected Philip Rivers to emerge as an elite QB. Unfortunately Rivers is having some growing pains and the coaching staff has not gone back to leaning on the running game as much.
Ladainian Tomlinson 2006 (through nine games)
190 carries, 44 catches
Ladainian Tomlinson 2007 (through nine games)
176 carries, 36 catches
So does the lack of rushes have something to do with Norv Turner not dialing up the right plays? Is Turner pushing Rivers too hard and expecting too much out of his young Quarterback? Should the offense stick to the running game and try to be more creative in blocking for LT, or does that same old Power-style run game still work?
"I don't really think about what's being called. I'm too focused on whats going on out in the field and when the opportunity does present itself to try to make a play. I'm caught up in that moment. So I don't really ever say 'Well we haven't ran the ball enough right here...' I'm never thinking like that. I'm caught up too much in whats going on on the football field instead of being the one trying to call the plays and saying what Norv should be calling. I've never been like that."
LT wont outright say it, but he is certainly intimating that he would like to carry the ball more. And I would agree.