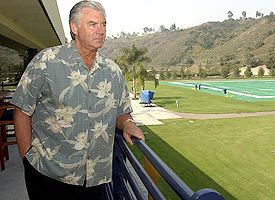 Some more insightful quotes from AJ Smith's recent press conference:
On the draft;
At this time we have four selections in the draft and we anticipate one compensatory pick from the league maybe mid-March.

It's a little light this year because of the moves we made last year. That could change, however, with some wheeling and dealing on draft day or before. We won't know that until we move through the process.

How do you view you needs going into the draft?

Well, we're not going to draft a kicker, we're not going to draft a punter, and we're not going to draft a tight end. Every other position is wide open. And its much to early for me to look at that. We rank the players first…line them up. And then after that we get in and we start looking at who we like and who we don't like. We pretty much know who our team is. For the second year (in a row) I can say that; meaning starters, probably replacements. Looking for depth. We'll decide later where we want to fill in depending on the value of the players that we have (available) to draft. As you see the draft, we're a little bit light right now. That could change. It's just too early to answer the particulars but we're loaded with players that we like for right now.
Does that mean you might draft a receiver?
Yeah. The only thing I eliminated was a punter, a kicker, and a tight end; very comfortable with the depth there. Other than that, I like our receivers; I like everything on our team. But until we grade the college players, and until we have our meetings, and the coaches input, and the scouts input, and my own input, and we see those individuals (on our board), and then we match those individuals and think about his future in the NFL or for the Chargers versus what we have (on our team); I have to look at that. Who is he better than? Will his future be better than so and so. That's down the road. That all comes together very easily for us as we get down to the draft day. But everything is open. Wide open.