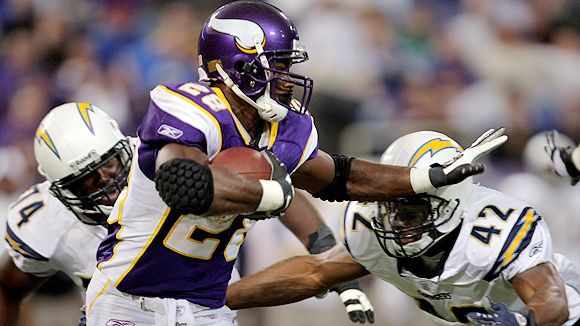 I guess you can pretty much say whatever you want when you are already being called the best running back in the league after one Offensive Rookie of the Year season. Adrian: I like you man, I'm serious. I respect your game. Those 296 rushing yards against my Bolts? Nasty. You did my team dirty, and I'll give you props for that. But c'mon man, you can't be rubbing it in like that. Especially in front of all those kids!

Peterson told the kids his best friend on the Vikings was cornerback Marcus Walker, his roommate at Oklahoma who recently signed with Minnesota as a free agent, and took a jab by saying that the toughest team he'd faced was the San Diego Chargers – the team against which he set the NFL single-game rushing record with 296 yards.
"That was a joke," Peterson told them before settling in on the Washington Redskins, who held him to 27 yards in the next-to-last game of the season.
You're lucky the Chargers aren't playing the Vikings this year! – at least not in the regular season. But Dr. Z says you are
going to win the Super Bowl
this year, so maybe you'll see us at the big dance on the road towards your Lombardi trophy.
Read:
Vikings RB Peterson finds adoring fans in return to Oklahoma
Subscribe to this Chargers blog

NFL Playoff Schedules and Superbowl Odds:

AD, whatcha done now? Calling out the Chargers? Taking a little "smack," are we? Getting in a little "dig" there? Doing a little good-natured "ribbing"?