Subscribe to this Chargers blog
Go to the front page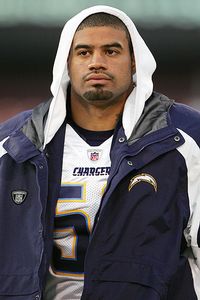 What happens to a team when it losses the most
dominant defensive player
in the game? How effective can a 3-4 defense be without a feared pass rusher? Clearly we are seeing the answer to those questions just about every week from the sans-Merriman San Diego Chargers.
Not only was Shawne Merriman a schematic nightmare for offensive coordinators, he was also
the emotional leader for his team
. Bill Williamson of ESPN
asked an AFC scout
to quantify the effect losing #56 had on the Bolts. The personnel man's response? "I can't believe the Chargers miss one player so much. But not having Merriman is killing them. They aren't the same defense without him."
This isn't a revelation to Charger fans, but what it does do is provide a glimpse into what the Chargers could regress to if they fail to resign Shawne Merriman after the 2009 season. The prevailing thought is that the team will have all its money tied up in extending Philip Rivers. But if the team was smart, they'd sit Rivers and Shawne down and ask them if there is a way to keep them both. Try to foster some sort of good will and open dialog between the parties involved.
I think
I know guys want to make as much money as they possibly can. And I'll never put a guy down for trying to get all the money he can. But a Super Bowl is a rare, rare thing and the fans here in San Diego deserve to call a Championship team their own. So all I'm asking for is for everybody involved try to get together and work this thing out. I see no reason why everyone can't win in this situation..