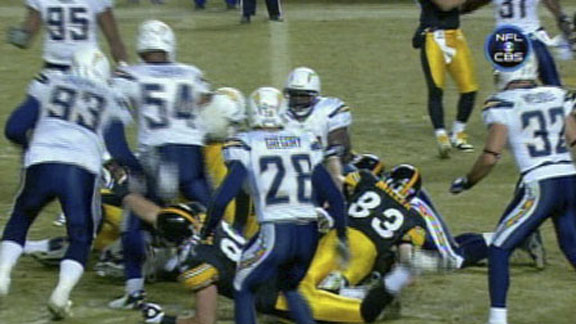 As we continue our breakdown of the Chargers roster position-by-position heading into the final two-weeks before the draft, we turn our attention to the defense. As a whole, the defensive unit was almost as bad as it gets for most of 2008. Ron Rivera took the reigns as Defensive Coordinator midseason and was able to improve the struggling group, but there is still a lot of work to be done.
The defensive line took a lot of heat for failing to pressure the QB and more importantly failing to stop the run. As teams learned that they could pass on the Chargers almost at will, the blame was primarily shouldered by the secondary, yet the defensive line played an important role in the failure of their pass defense.

This is another one of those "What a difference a year makes" moments. In 2007, with a healthy Shawne Merriman creating havoc all over the field, the D-line received a lot of praise for getting to the quarterback and stuffing the run. They excelled at hitting the QB in the pocket and forcing turnovers, and were a true force to be reckoned with.

Then came 2008, and a turn-around that shocked most NFL experts. Luis Castillo received a big contract and was designated a cornerstone of the defensive line on the left side, but his play was a different story. Castillo was consistently inconsistent when blocked one-on-one and was no serious threat for a majority of the year.

Igor Olshansky, who is strong enough to bench press a Hummer full of The Biggest Loser contestants, never seemed to be able to use that strength to his advantage on the field. During most games last year, his name was called less often than Samantha Ronson's at a beauty pageant. He has since moved on to the Cowboys.

Jamal Williams continued to anchor the line at nose-tackle. While it took him some time to work his way into game-shape, he quickly returned to Pro Bowl form. Chargers fans are hoping he has at least one more good season in him, but everyone knows it's time to start thinking about his replacement.

That brings us to this year's draft. In past columns I've made the case to go O-line in the 1st round of the draft, but there's a great case to be made to go defense. It's very possible that the four top O-linemen will be gone by pick 16, leaving the Bolts to focus on the best defensive player available. There's a good chance Rey Maualuga will be available, but I would prefer to see the Chargers pick up DE Everette Brown from Florida State (if they're lucky) or DE Tyson Jackson (LSU), which is much more likely. It's either that or we're stuck with Ryon Bingham filling the void at defensive end.

Offensive line...defensive line...damned if you do, and damned if you don't. How do you fill two big holes with one pick in the first two rounds? Anyone else feeling a trade on the horizon?