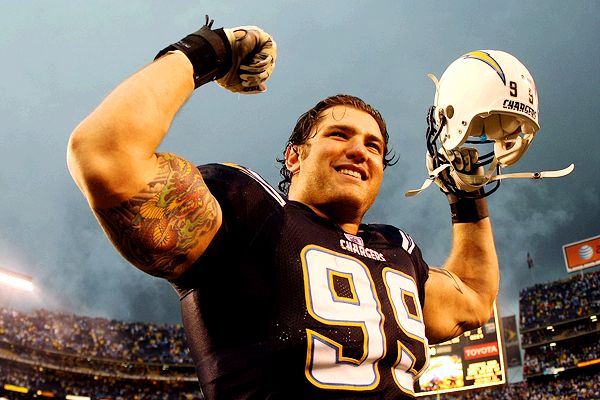 With an already suspect run defense, the San Diego Chargers' woes are only compounded by the fact that they have lost both Jamal Williams and Ryon Bingham for the year. The Chargers now find themselves in a nightmare situation, desperately depleted along the defensive line. They drafted DT Vaughn Martin with the idea that he would benefit from further development and blossom down the road, and traded for DT Travis Johnson hoping he could fit in as a starting 5-tech until that time. But two weeks into the season, the Chargers are more banged up than ever and are scrambling to find bodies.
Word on the street
is that the Bolts are bringing in 33 year old free agent Alfonso Boone, who has never played in the 3-4... and their search might not end there. At this point, the question deserves to be asked: Did the Chargers make a mistake by not signing Igor Olshansky a contract extension when they had a chance?

Olshansky, swiftly signed as a free agent by the Dallas Cowboys (four years, $18 million), expressed his desire to stay in San Diego, but at the same time was vocal about his disappointment that the Chargers made no offers to him. Under new Chargers Defensive Coordinator Ron Rivera, Olshansky saw his playing time tapper off significantly:

"I'm not blaming anyone," says Olshansky. "I don't know what the reason is. But it was definitely something. In [the playoff game against the Steelers] I had 5 tackles, Jamal Williams had 5 tackles. That was the most important game of the season. No one else was really that productive. Why would you cut a productive player's playing time?"

Not one to cause trouble in the locker room, Olshansky bit his tongue and kept grinding, hoping that his hard work on the practice field and in the weight room would be recognized:

"It's a tricky thing, dealing with coaches and knowing your role," explains Olshansky. "I had to know my role on the team. I didn't want to make any problems for anybody. I didn't want to make problems for myself and be a distraction. So I quickly realized my role on the team; if we call your number, you get out there and play your ass off. If we don't, you sit on the sideline until you are called up again. So that's basically the role I played this year. When they called me I went out there and played my butt off. And when they didn't, I sat quietly on the sidelines, jumping around, stretching, and making sure I stayed warm."

It's tough to really quantify a defensive lineman's value to a team, especially in a 3-man front where defensive lineman don't generally put up big numbers. But without those stout bodies up front keeping the linebackers free to make plays outside, the Chargers are going to become soft up the middle and will continue to allow chunks of yardage on the ground. As the year goes on, it'll be interesting to see how the team responds to the strain that injuries have placed on them.