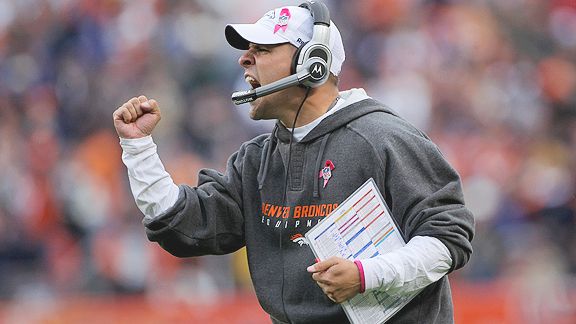 In case you missed it, the Broncos are now 5-0 after defeating the New England Patriots in overtime. After starting 3-0, it was believed that Denver had gotten lucky against some pretty bad teams. At 4-0, I thought that they got a good win against a Dallas team who never plays up to expectations. Now, by beating the Patriots, I blame their win streak on a little luck and just enough good football. And that could be enough to win the AFC West.

So the big question is, where does that leave the Chargers? Last year's Bronco team was just bad enough to implode and serve up the division to an average Chargers team on a silver platter. This year you can't count on a similar self-destruct sequence. That means that our Chargers, the team who has progressively gotten worse since 2006, has to step it up big time against the remaining three-quarters of their schedule. And it all starts next Monday night against Broncos.


Giving the Chargers the benefit of the doubt against the Broncos in Week 6 (and that is a HUGE benefit of the doubt), I can see the Chargers' remaining schedule playing out like this:


W/L Week Date Game
W 6 Oct 19 DEN @ SD
W 7 Oct 25 SD @ KC
W 8 Nov 01 OAK @ SD
L 9 Nov 08 SD @ NYG
L 10 Nov 15 PHI @ SD
L 11 Nov 22 SD @ DEN
W 12 Nov 29 KC @ SD
W 13 Dec 06 SD @ CLE
W 14 Dec 13 SD @ DAL (tough call, counting on the late-season surge)
W 15 Dec 20 CIN @ SD
L 16 Dec 25 SD @ TEN (physical team, even if they fall below expectations)
W 17 Jan 03 WAS @ SD (counting on the Redskins to have a new coach at this point)

That is a 10-6 record, which is pretty good. I see the Broncos remaining schedule playing out like this:


W/L Week Date Game

L 6 Oct 19 DEN @ SD
- 7 Bye
L 8 Nov 01 DEN @ BAL
L 9 Nov 09 PIT @ DEN
W 10 Nov 15 DEN @ WAS
W 11 Nov 22 SD @ DEN
L 12 Nov 26 NYG @ DEN
W 13 Dec 06 DEN @ KC
L 14 Dec 13 DEN @ IND
W 15 Dec 20 OAK @ DEN
L 16 Dec 27 DEN @ PHI
W 17 Jan 03 KC @ DEN


I predict the Broncos to also finish 10-6 (believe it or not, I predicted wins/losses without trying to limit them to a 10-6 record). Obviously with a little more good luck the Broncos could pull out one more win and walk away with the division outright. But if the Broncos do end up tied with the Chargers at the end of the season, things are going to get very interesting.

The first tie-breaker is the head-to-head match-up. In our scenario here both teams go 1-1. The second tie-breaker is record within the division. Again, both teams tie with a 5-1 record. The third tie-breaker is in games against common opponents. Both teams go 8-4 in this scenario. The fourth tie-breaker is games against conference (AFC) opponents. Again, both teams tie with an 8-4 record. That would leave us to a tie-breaker based on strength of victories and then strength of schedule. And that would make the whole thing a big mess.

Let's back up and focus on this week. It all starts against the Broncos on Monday Night. Win that game and you have a chance to be champs. Lose that game and you are most likely going to end up chumps.