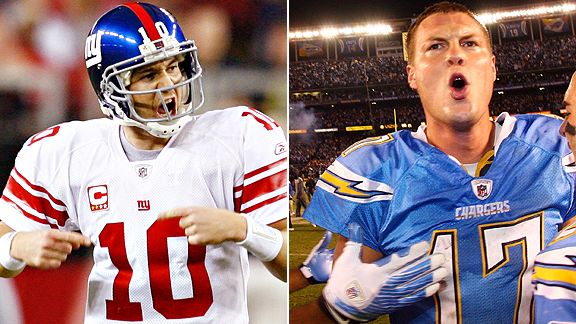 Rivers over Manning, or Manning over Rivers? It's a question that will be asked for the rest of their respective careers. Chargers fans who hold a grudge don't think twice before they side with Philip Rivers. Giants fans who hold a recent Super Bowl championship side with Eli Manning. At this point in time, who would you rather have leading your team? Never fear, BOLTHYPE breaks it down for you...



INDIVIDUAL STATISTICS



Because Manning has been starting longer than Rivers, it's tough to simply compare career stats. What we will look at here is a break down of their performance since 2006, Rivers' first year as a starter. Even though Manning was a more experienced QB at that point, the stats still measure out in Rivers' favor.



(Reg. Season) Wins Yards TD's Comp. % Int. QB Rating



Rivers 37 12585 88 62% 39 93.95

Manning 35 11673 81 51% 56 80.92

Rivers clearly holds a statistical advantage over Manning. Over that time period he has more yards, more wins, and a much better QB rating. It's worth pointing out that River's growth has come with the decline of the Chargers running game. Once, defenders had to focus on stopping the Chargers rushing attack, but that's no longer the case. Now it's Rivers (and his more than capable receivers) against the world, and he has responded like a champ.



TEAM PERFORMANCE



What isn't talked about enough in the Rivers vs. Manning debate is the overall performance of their respective teams. To think that Rivers can be the statistical elite that he has become without quality receivers around him is absurd, just as it is absurd to think that the Giants Super Bowl XLII championship was solely due to the performance of Eli Manning. But with that being said, I still think Manning is getting way too much credit for that win. Anyone who watched the game knows it was largely a defensive battle until the end, and that Manning had a pretty average day (although David Tyree had one of the best receptions in Super Bowl history).

The Chargers are not the New York Giants. They have been plagued by injuries, and their defense went from intimidating to soft in very short amount of time. I would argue that the Giants win games regardless of Manning (although his recent poor performance might change that opinion), but the Chargers, lacking a complete supporting cast, have won because of Rivers. If the roles were reversed, I think Rivers could win with the Giants, but I don't know if the Chargers would be just as good with Manning- maybe, maybe not.

It is unfortunate that the 2007 Chargers fell apart the way that they did. Sure, they won their last 8-games, but the players that they relied on to get to the post-season broke down when it counted most. If the Chargers had a healthy Rivers, LT, Gates, Hardwick, Merriman, etc., it would have been a much different post-season in 07-08. The Chargers very well could have represented the AFC in the Super Bowl. And in my opinion, they would have went on to end the Rivers vs. Manning debate, because not only would Philip have the statistical edge over Eli, he would also have a ring.