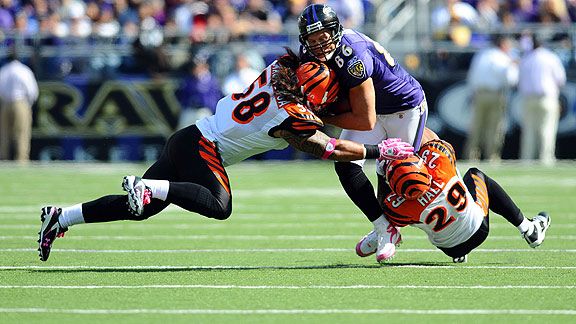 Part 2 of our preview of Sunday's matchup between the San Diego Chargers and the Cincinnati Bengals. In today's post, we examine the Bengals' impressive defense and look at what the Chargers do best on offense.



CINCINNATI BENGALS DEFENSIVE UNIT AMONG NFL ELITE



When you look at the Cincinnati Bengals' defense, it reminds you of the type of unit Marvin Lewis had in Baltimore during his years as their defensive coordinator. The Bengals give up very few total yards (5th best in the NFL) and points (2nd in the NFL), and are incredible tough to run on (3rd ranked run D). They also excel at getting to the quarterback. Their 31 sacks on the year tie them with the Chargers for 5th best in the AFC. Cornerbacks Johnathan Joseph and Vista High's Leon Hall combine to form an elite pair of ballhawking, shutdown covermen, each with 5 interceptions on the year so far. Watching them fly to the football on game day, it's clear the Bengals are an elite defense and will be a true test for the Chargers. Statistically , they'd be ranked even higher had they not uncharacteristically given up 30 points to Minnesota last week. The Bengals nonetheless are a confident bunch who are young, athletic, and very talented. The fact of the matter is the Cincinnati Bengals might be the toughest defense the Chargers have faced all year.



CHARGERS LIGHT UP THE SCOREBOARD THROUGH THE AIR



By now it is well-documented that the San Diego Chargers look get the ball down field and score quickly. In terms of total offensive plays from scrimmage among AFC teams, the Chargers find themselves bunched in with the Cleveland Browns, Oakland Raiders, and Buffalo Bills. Yet while those teams have anemic offenses that sputter out and die, the Chargers on the other hand are a model of efficiency.

Norv Turner commands a disciplined group; the Chargers grade out highly when evaluating interceptions given away, and penalties committed on offense. While it's clear the Chargers' simply cannot run the ball effectively, they are more than making up for it through the air, as Philip Rivers carries the offense on his back.

Coach Turner and Philip Rivers have formed a unique relationship that has continues to blossom over the years, the fruits of which are clearly evident on gameday:

"Over the time we've been together, he has a much greater understanding now than he did two years ago of the direction we're going and what we're trying to get done in a game and how we're trying to attack people and the things that matter in terms of him playing at a high level," explain Coach Turner. "He lives to go out and play and play at a high level. He's a great competitor."

Rivers will be facing an attacking defense when the Bengals come to town, but he's shown that he is more than capable of handling the pressure. In fact, the Chargers have excelled at beating the blitz and it's an area of the offense that the team spends extra time preparing for each week.

"As a quarterback in any level, you kind of hope they come after you," explain Rivers. "If you have plays up that you're able to beat them with it. Depends on what you have called and who you have to get it to quick. Certainly when teams come after you it allows you to…it eliminates who can get double covered, how many different coverage schemes they can run. Then you like your match-ups, especially with the guys we have to throw the football to. Our offensive line does such a great job of picking up the blitz, it's not always going to be a guy coming free, just because a team is bringing pressure. We do a great job picking up that extra guy, which allows us to buy a little extra time to make a throw down the field."

HOW THEY MATCHUP

For the Chargers, the fact that the Bengals play such stout run defense doesn't necessarily take anything away from San Diego. The Chargers won't look to run the ball much; through 13 weeks they have managed to average only 3.2 yards per carry - embarrassingly low but a handicap the Chargers have learned to live with.

Considering the Chargers will look to pass the ball to generate offense, they'll need to contend with a fierce pass rush and an opportunistic secondary looking to create turnovers. If Nick Hardwick and Jon Runyan are available this week, their experience should help against a young defensive group.

Offensively, the Chargers won't get away from what has worked for them thus far, so I imagine we will see the same Chargers we've seen all year; high flying, high scoring, with some gimmicks here and there to mix things up.



Chargers 31, Bengals 17



That's how I see it, what's your take? I'd love to hear from you, so please drop a comment and let your voice be heard!