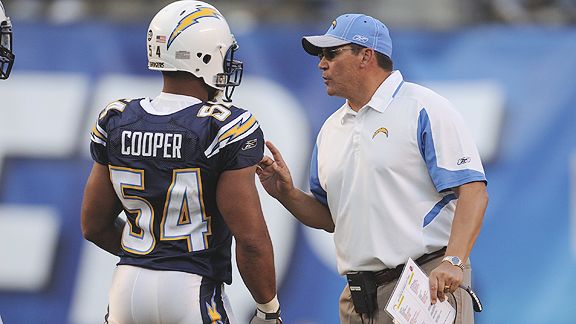 Often times, the most steady of players get overlooked by the fans and the media, and the San Diego Chargers have a handful of these types. Quentin Jammer is probably the most underrated player on the Chargers, but he's got a few teammates who go about their business with little flash but are dependable and consistent. Put Stephen Cooper in that group. Since becoming a full-time starter, Cooper has become the leader of the defense, a favorite of the coaching staff, and a player who commands the respect of opposing offenses.
While the Chargers' defense has had some vulnerabilities, it isn't for Cooper not doing his job. Stephen Cooper is as productive as any other player at his position. His average stat line over the past three years? 100 tackles, 6.5 passes defended, 2 interceptions, 1 sack, 1 forced fumble.

Steady, dependable, consistent.

Through hard work and a never-quit attitude, Cooper inspires his teammates. Whether in practice, studying film, or lifting weights, he leads energetically by example and charisma. When asked if this was a role he embraced, Cooper says sees it as a natural transition.

"We've got a real young team, and I've been here 7 years now," explains Cooper. "I've been here through the ups and downs here in San Diego. I've been there, so it's kind of natural to take the role of a vocal leader on the defense."

As the captain of the defense, Stephen Cooper is tasked him getting his teammates in position on the field and making adjustments as necessary. His coaches allow him to audible and freelance a bit, but one of Cooper's biggest strengths is his discipline and commitment to the defensive philosophy.

"Ron gives me a lot of flexibility in changing the defense, depending on the situation of the game, says Cooper. "It's about fitting in with the scheme. Ron puts us in a great position to make plays. In a 3-4 defense the linebackers get opportunities to make a lot of plays."

The Chargers don't have many three-down defensive players, but Cooper is a guy who stays on the field regardless of down and distance. Due in part to injuries, as well as the Chargers having many specialists on the roster, there is a constant rotation going on in the defense. The Chargers employ a variety of looks and packages specifically designed to counter the play which they are expecting to see. This takes a tremendous amount of preparation to execute, and while it might make things more hectic on the sidelines as the coaches send guys on and off the field, Cooper is there ready to lead the huddle.

"Some guys are great run stoppers, some guys can cover better than others. It all depends on what package you are in and what the game situation is that determines who is on the field. It doesn't really matter who's beside me. I think Ron Rivera does a good job of rotating guys in on the d-line and defensive backfield."

But with so many packages and so few three-down players, doesn't it mean that the defense will suffer more breakdowns? Cooper doesn't think so.

"I think it makes it easier when guys have less things to think about," Cooper says. "When you rotate guys to play in a certain package, they can focus on their package and those defensive calls. Myself, I'm a guy that plays every down, every package and there is a lot more thinking involved, but I've been in this defense for years so it makes my job a lot easier and I can make the most of it."

The Chargers defense is young and they've faced some big challenges when they lost key players. But the expectations are extremely high here in San Diego, and when mistakes are made and players are in the spotlight for the wrong reasons, the patience of the fans wears thin quickly. However, Cooper assured me that players are indeed held accountable for their actions on the field by their teammates.

"Everyone is accountable and everyone knows what's expected of them," states Cooper. "It's about going out there, doing your job, and executing. Guys on both sides of the ball know what they are supposed to do and when they are called upon and they don't do it, they need to understand that they are going to be held accountable if they don't do their job."

Strong words from a respected leader like Cooper ring true inside the locker room. The Chargers are determined to improve their defense next year, and Stephen Cooper is going to be a key part of their return to dominance.