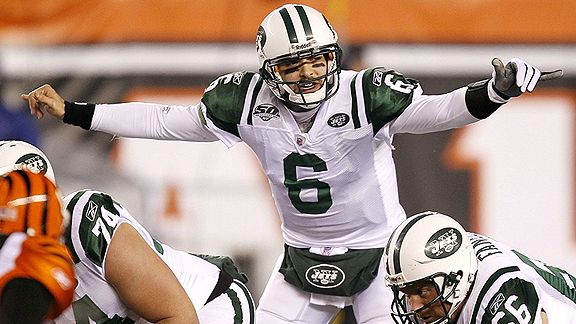 As we approach the divisional round of the playoffs, Ladainian Tomlinson says he still has gas left in him, former USC teammates Mark Sanchez and Kevin Ellison reunite on the football field, and are the New York Jets really the biggest underdogs in the playoffs?
TOMLINSON ACCEPTS REDUCED ROLE, BUT ISN'T READY TO RETIRE



Via Facebook and Twitter, I asked a number of Charger fans if they felt Ladainian Tomlinson would retire if the Chargers win the Super Bowl this year. A valid question, considering all the speculation that the Chargers will release their highly paid, yet infrequently utilized star player. At 30 years old, Tomlinson is undoubtedly in the twilight of his career, but the fans seemed split 50/50 on how they felt about an LT return next season; would Tomlinson take a cue from John Elway and retire on a high note, or does his path take him down an Emmitt Smith-like career? If the Chargers win the Super Bowl, will LT get his ring, take his trip to Disneyland, and call it championship career?

"I think that would mean my career is complete, from everything I've wanted to do in this league," Tomlinson said. "That doesn't mean that I retire, because I won't until I feel like it's time."

SOURCE: Yahoo Sports



FORMER TROJANS KEVIN ELLISON AND MARK SANCHEZ PREPARE TO FACE EACH OTHER ONCE AGAIN



As a safety at USC, Kevin Ellison practiced daily against his opponent this week, Jets Quarterback Mark Sanchez. Both players are very familiar with each other, and will likely try to exploit one anothers' tendencies and bad habits. However, neither player is surprised by the others' early success in the pros:

"He's an awesome player and so competitive," Sanchez says of Ellison. "To see how well he's doing as a rookie is awesome. You almost knew it was going to happen by just the way he played and his work ethic; he deserves it. It's going to be very fun to see him before the game. But once the whistle blows, it's time to get down to business."

While Mark Sanchez has proven to have a bright future in the NFL, it is enormously difficult for a rookie quarterback to win the NFL, let alone the playoffs. If there is a noticeable flaw to the young QB game, it's his propensity to make a bad decision with the football and give up a turnover; only Jay Cutler threw more interceptions (26) than Mark Sanchez (20).

Ellison should be liking his chops at the opportunity to pick off his former teammate, and indeed comes into this Sunday's game with plenty of confidence:

"I used to get after him in practice," Ellison said. "I don't want to brag too much, but we had some good afternoons out there."

SOURCE: Chargers.com



ODDS AND ENDS

(Courtesy of OddShark.com)

Finishing off the divisional weekend schedule on Sunday is the Jets at San Diego. At the Chargers are a 7-point favorite in this one.

New York has been playing must-win football for nearly a month now and after downing Cincinnati last week they've won three-straight and six of their last seven games. The Jets got past Cincinnati 24-14 as a 2.5-point underdog. Two rookies performed very well in the win, as Mark Sanchez passed for 182 yards with a TD and Shonn Greene rushed for 135 yards and a TD on 21 carries. The New York defense took care of the rest, holding the Bengals to 281 yards with three sacks and an interception.

The Chargers were the hottest team in the NFL at the end of the regular season after winning 11-straight. During their streak they were also a cool 7-3-1 ATS. San Diego's last loss came in Week 6 on October 19 versus Denver. With a balanced offense led by Philip Rivers and LaDainian Tomlinson the Chargers outscored their opponents 330-184 during their long winning streak.

When the Jets and Chargers last met in 2008 San Diego ripped New York 48-29 as an 8-point favorite. The Chargers have won two in a row against the Jets, but in their last four home games against New York, San Diego is 1-3 SU.



CHARGERS WALLPAPERS



Couple of sweet Chargers wallpapers made by Jason, definitely check them out!




SOURCE: PhotoIntoPainting.com