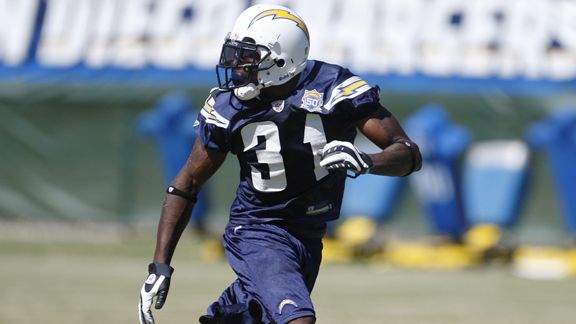 According to ESPN, the Chargers are shopping cornerback Antonio Cromartie in hopes of getting a running back in return. ESPN's sources claim the former Pro-Bowl cornerback has fallen out of favor with the team.
ESPN's Chris Mortensen wont name specific teams at this time. More as the story develops.

SOURCE: ESPN



EXAMINING TRADE POSSIBILITIES:



As is typical in NFL trades, the Chargers may look to deal with an out-of-conference (NFC) team. More specifically, they may target teams that have multiple legitimate running backs on their rosters. Possibilities include:

CAROLINA PANTHERS: With both DeAngelo Williams and Jonathan Stewart still in their twenties, the Panthers have an envious pair of running backs. Stewart, at 22 years old, could be a guy who has a longer-term future in Carolina. If that is the case, perhaps the Panthers would be willing to deal Williams. However, Williams has proven to be more explosive and has a higher averages in both yards per carry as well as yards per catch.

DALLAS COWBOYS: Rumors have been swilling for at least a week about a Tashard Choice for Antonio Cromartie trade. The Cowboys deny such conjecture, but the trade makes sense on a few levels. Choice is a young player who the Chargers had expressed interest in during the 2008 Draft process. The Cowboys have Marion Barber and Felix Jones providing a nice one-two punch. Then again, the Cowboys may decide to keep the younger Choice and might be open to dealing Barber instead.

NEW YORK GIANTS: The Giants' have been plagued with misfortune at cornerback in recent years. Aaron Ross has not lived up to expectations as a former first-round draft pick, and Corey Webster seemed to have regressed from his 2008 form. The might be interested in adding a guy like Cromartie, and the Chargers would certainly be interested in adding a big back like Brandon Jacobs to help the run game.

NEW ORLEANS SAINTS: Coming off of a Super Bowl, the Saints are riding high. But the preparations for the 2010 NFL season are under way and one of the team's biggest question marks is at running back. Reggie Bush, although a playmaker, hasn't shown to be a consistent producer at running back. The Saints may be interested in moving Bush, but his $8 million price tag in 2010 and $11.8 million in 2011 make things difficult. The Chargers wont pay that for Bush. But Pierre Thomas' $460,000 2009 salary is much more palatable, and as a free agent in 2010 the Saints might be willing to try and get something for him.

YOUR TAKE: Thoughts, scenarios, or ideas for this trade situation the Chargers have seemed to find themselves in? I'd love to hear from you guys, so sound off in the comments section below!