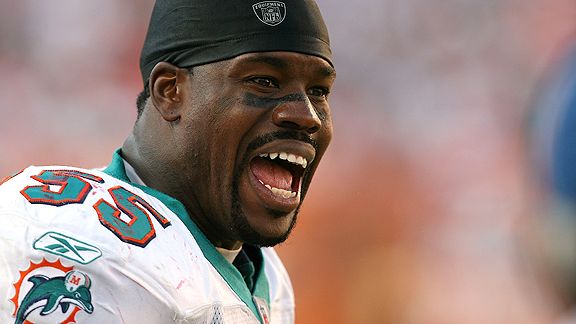 A frustrated Joey Porter joined WQAM in Miami and vented his frustrations with the Dolphins organization. Porter explains his frustrations stem from a broken relationship with the coaching staff, saying he was blacklisted in a sense and kept out of games during crucial times as punishment. Feeling underutilized and unwelcome in Miami, Porter is seeking an exit and has identified the San Diego Chargers as a potential fit for him.
There is no question Joey Porter is a fiery individual, outspoken and passionate. But Porter backs up his talk with production.

A four-time Pro Bowler and a Super Bowl Champion with the Steelers, Porter has 92 sacks in his illustrious 11 year career; 32 of those sacks came in his three year stint as a Dolphin. But Porter felt his role was significantly reduced last year, and says the Dolphins never gave him a real explanation.

"I feel like I'm an every down player," says Porter. "I'm supposed to be out there on the field when the game's on the line, not on the sideline. I was on the sideline in the fourth quarter of games cheering. Just a year ago I was the guy winning those games. I don't know what happened. But at the same time, if that's how they're using me, I feel it's best to let me leave and help some other football team that can use me."

Porter explains it's not a matter of money or contract issues. He just wants to be out there on the football field, not on the sidelines.

"I'm not asking for anything different. I'm not asking for any more money. I'm asking to play."

A nagging hamstring set him back out of the blocks in 2009, but in the final seven games of the season, Porter recorded a sack in every game. And just two seasons ago, Porter led the league with 17.5 sacks. He is convinced his abilities have not diminished and that he can still be highly productive. But at this point, his relationship with the Miami Dolphins appears past repair. Porter says he can't trust the organization and that it would be best if they would just release him.

Wanting to stay close to his home state of California, and also wanting to stay in a 3-4 defense, Porter identified some potential fits out West.

"San Diego, Arizona, San Fransisco. Those are good fits. I feel they can use my services."

Source: WQAM



YOUR TAKE



Should the Chargers take a chance on Joey Porter? Would he provide the veteran leadership that the Chargers need on defense? As one of the final 8 playoff teams, the Chargers can only sign one free agent - does Porter fit that equation?