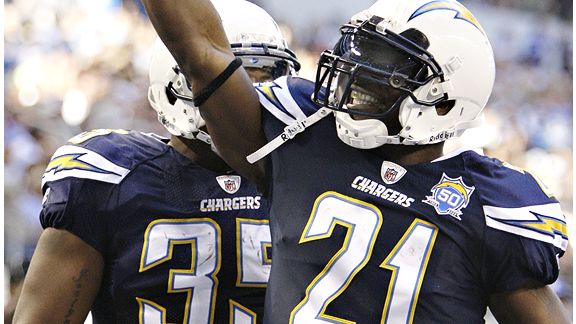 LaDainian Tomlinson came into San Diego in 2001 following a time of great drama and turmoil for the San Diego Chargers. The Chargers had finished the 2000 season with just one win, an embarrassment even for a team that had experienced many more downs than ups over the course of their then 40-years in existence. Ryan Leaf, the biggest bust in NFL history at that time, had been released, and the Chargers had just traded the number-one pick (and the right to draft QB Michael Vick) for a package of picks and players, all in the hope that they could get the guy they thought they could build a franchise around at pick number-five. That player was LT.
Tomlinson's early years with the Chargers earned him more individual accolades than team success. In his first three years in the league the Chargers finished last in their division. Still, LT quickly established himself as the one consistent threat on the Chargers offense. Even on those bad Chargers teams from 2001 to 2003, LT became the first running back to score 10 or more touchdowns in his first three years, earned a spot on both Pro Bowl and All-Pro teams, and gave San Diegans hope for the future.

In 2004 the fortunes for the Chargers began to change, and LT kept getting better. He led the league that year with 17 rushing TD's, and the Chargers made the playoffs for the first time since 1995. They could not make it out of the Wild Card round, losing to the Jets by a field goal (insert shudder here), but the performance of this up-and-coming group, with their star running back leading the way, foretold of a period of success that had not been seen since the AFL Championship years of the early 60's.

The year 2006 was a career milestone for Tomlinson and solidified his spot in the Hall of Fame down the road. Chargers began the first of four consecutive years in the playoffs, and in one of the greatest individual seasons for a running back in NFL history, LT led the league with 1815 yards rushing, scored an NFL single-season record of 28 rushing touchdowns and 31 total touchdowns, set a new NFL record for points scored in a season with 186, and led his team to a 14-2 record while winning the league MVP and the Walter Payton Man of the Year award. His record breaking touchdown against the Denver Broncos (coming in the 13th game of the 2006 season) is a moment that still gives chills to any Chargers fan.

Tomlinson ends his Chargers career with 12490 yards rushing and 16445 total yards from scrimmage, and with 138 rushing touchdowns and 153 total touchdowns (with 7 more passing touchdowns and 146.9 passer rating). His and the team's biggest regret during the last nine years is the lack of Super Bowl success, and it truly is a shame that this team could not pull it all together during Tomlinson's time in San Diego.

From humble beginnings playing Pop Warner football in Waco, TX, where his mother Loreane sacrificed and saved to fulfill her young son's dream of playing football, through his days playing college football for TCU, LT always had to fight for a starting job as running back. It seems there was always someone a little bigger or a little better connected standing in his way, forcing Tomlinson to fight even harder for playing time. He eventually earned the starting job at TCU, and went on to lead the NCAA with 2158 rushing yards in his senior year and was a finalist for the Heisman Trophy.

With the Chargers release of Tomlinson on Monday, he again finds himself fighting for a job. Most "experts" believe he has lost a step, and it's hard to argue with that. I would add that while he may have lost a step, LT at 80% is still better then most of the running backs in the league. It's hard to predict where the future will take him, but for a guy as competitive as LT, I think he looks forward to the challenge of fighting for a spot with another team.

Can LaDainian Tomlinson start for a team in the NFL in 2010? I think he can, and I look forward to cheering him on...except for if and when he plays against the Chargers. Wow, how weird is that going to look?

--

LaDainian Tomlinson will speak about the events of this week in a press conference later today.