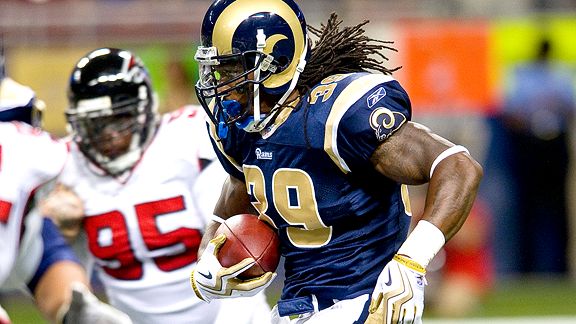 Ladainian Tomlinson says good-bye to San Diego, Darren Sproles could join LT in free agency, and a rumor surfaces that the Chargers are interested in Steven Jackson...
TOMLINSON BIDS SAN DIEGO AN EMOTIONAL FAREWELL



Ladainain Tomlinson held a press conference yesterday where he expressed a heartfelt thank you for the welcome and support San Diego has shown him through the years. While LT's time as a Charger has come to an end, his playing days are not over. Tomlinson stated that his goal is still to become a champion, and that he'd be willing to sign with and play for a team for three to four years in an attempt to attain that which has alluded him thus far: becoming a Super Bowl champion.






DARREN SPROLES TO HIT THE OPEN MARKET?



There have been increased rumblings that the Chargers may lose Darren Sproles to free agency. Sproles and his agent are unwilling to sign with San Diego at a less-than-market price, and it seems like the Chargers wont pay Sproles the kind of money he is looking for. As a restricted free agent, the Chargers would have to pay Sproles somewhere in the neighborhood of $7 million in 2010. Since the Chargers view Sproles a return man and situational running back, they don't feel comfortable investing that kind of money into Darren Sproles. Sproles and his agent have made it clear they want running back-type money, and they are confidant they will get it with another team once they hit free agency. As a result, the Chargers could lose Darren Sproles - compounding their need for running backs even further.

SOURCE: San Diego Union-Tribune




RUMOR: CHARGERS INTERESTED IN TRADING FOR RAMS' STEVEN JACKSON?



ESPN affiliate radio station 101ESPN in St. Louis had NFL insider Adam Schefter as a guest this week and Schefter claimed the Rams could be interested in trading running back Steven Jackson in exchange for a first round pick. There is a rumor circulating that the Chargers would send their first round pick (28th overall) to the Rams for Jackson. Add that rumor to the ones about the Chargers trading for Tashard Choice and/or Marshawn Lynch. At this point, it's all pure speculation but the Chargers have essentially admitted they are shopping Cromartie and it makes sense for them to try and get a running back in return. Jackson is a powerful back who has exceptional hands, and could fit nicely in the Chargers' offense. However, he is older and has wear and tear on his body, so even if the Chargers did acquire him, they would still need to bring in a rookie running back.



YOUR TAKE



How did you feel watching LT say good bye to the fans? Would the Chargers be in deep water without Sproles? And would Steven Jackson be a good fit for San Diego? Sound off in the comments below!