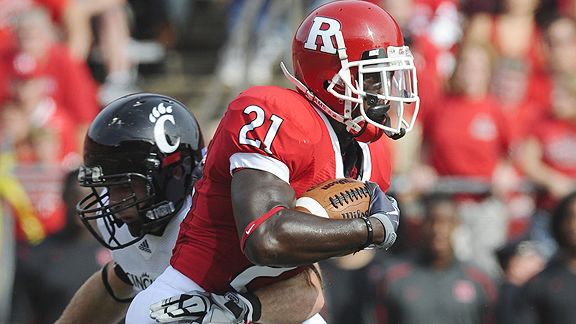 In our second Chargers mock draft of 2010, BOLTHYPE predicts the Chargers will address the losses of Antonio Cromartie, Ladainian Tomlinson, and Jamal Williams early as they try to replace the three Pro Bowlers.
1st Round: CB Devin McCourty, Rutgers



After an excellent Combine workout where he posted the fastest time among cornerbacks with a 4.34 forty, Devin McCourty opened a lot of eyes around the league. But truth be told, McCourty was a player who's stock has steadily been rising all year long. McCourty is one of the top cornerbacks in this draft class; good size, elite speed, excellent hips and agility, and good ball awareness, McCourty has the ability to play nickel back his rookie year. Additionally, McCourty is a demon of a special teams player. Not shy at all of contact, McCourty was the Scarlet Knights' special teams gunner and also showed the ability to return kicks the distance. A highly productive four-year starter, team captain, and twin brother of a current NFL pro in Jason McCourty, Devin McCourty would be a fantastic value pick at a position of need at the end of the first round. As we've seen, the Chargers have no qualms about drafting defensive backs early so it shouldn't come as a surprise if they do indeed take one in the first two rounds.



2nd Round: DT Cam Thomas, North Carolina



After an impressive Senior Bowl and Combine performance, Cam Thomas' stock is on the rise. Certainly not a guy whose numbers jump off the stat sheet, Thomas projects as a prototype nose guard in the 3-4 defense. He'll be asked to be stout against the run, hold his own against double teams, and generally clog the middle as the linebackers make the plays. He could play in a rotational role in his first year as the Chargers work to find the best group of 'bigs' for each down and distance.



3rd Round: RB Ben Tate, Auburn



In a deep running back draft class, the Chargers should feel comfortable waiting until about the third round before pulling the trigger on a running back. Ben Tate had a productive senior season, running for over 1300 yards and averaging over 5 yards a carry. Tate possess an ideal blend of size, speed, and bulk and really showed off that athleticism in post season workouts such as the Senior Bowl and Combine. Known primarily as a north-south runner, Tate indeed looks to get up the field in a hurry, but also flashes some wiggle and will certainly break tackles. With his low-center of gravity and hard running style, Ben Tate reminds us of a mix between Maurice Jones-Drew, Micheal Turner, and Steven Jackson.



4th Round: LB Micah Johnson, Kentucky



The Chargers have been known to "over draft" a player who they think can be special, and Micah Johnson has the ability to be just that. A former All-SEC tackling machine, Johnson looks like he was designed by a ancient Greek sculptor. Thickly built, rangy, and a 'striking' tackler, Johnson would likely be classified a 'thumper' by Chargers GM AJ Smith. With some durability concerns and timed speed that has concerned some scouts, Johnson's pro outlook looks limited to playing inside in a 3-4 defense, but the Chargers may have need of his services in a year if they allow Tim Dobbins and Kevin Burnett to leave as free agents in 2011.



5th Round: RB Joique Bell, Wayne State



A big fish in a small pound, Bell was dominant at small school Wayne State, twice gaining over two thousand yards in a season. The Division II College Football Player of the Year, Bell has a great blend of size and speed and has also displayed exceptional hands when catching the ball downfield. Bell's numerous student-athlete awards speaks to good intangibles.



7th Round: OT Chris Marinelli, Stanford



Chris Marinelli is a big, physical right tackle that comes from program coached by Jim Harbaugh, one of college football's brightest young coaches. Marinelli was the leader of Stanford's offensive line as their most experienced starter and most versatile, showing the ability to play guard and tackle. Big part of Toby Gerhart's success and his size and versatility will be attractive to pro personnel people.



YOUR TAKE



Do you have a mock you'd like to share? Post it in the comments section below!