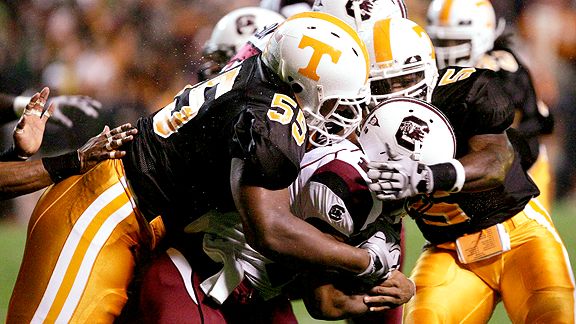 In our third Chargers mock draft of 2010, BOLTHYPE projects the Chargers will address the running back position in the second round after first drafting a coveted defensive tackle.
1st Round: NT Dan Williams, Tennessee



Of all prospects in the 2010 NFL Draft, Dan Williams represents perhaps the most perfect pairing of value and need to the Chargers. And as such, it would be nothing short of amazing if the number one guy on San Diego's board were to be available at the 28th overall selection. Widely regarded the top nose tackle prospect in a draft class deep with defensive linemen, Dan Williams would instantly upgrade and secure one of the Chargers' most glaring holes. As Dan Williams himself has confirmed, the Chargers have shown strong interest in the big 330 pounder, but so have many other clubs. It would be fortunate for the team have Williams fall to them, and there are scenarios in which it could be possible. We can only wait and see...



2nd Round: RB Jonathan Dwyer, Georgia Tech



With Chargers moving up to the top of the second round, they are now in position to draft one of the highest rated workhorse running backs in this draft class. The team is in search of a physical runner who can carry the load and bring an aspect to the offense that the team has lacked: the ability to kill time off of the clock. As primarily a passing team, the Chargers need to bring in someone who can complement their air attack with a physical style of play and Jonathan Dwyer can do just that. At 5'11" 230lbs, Dwyer is a load of a back but also show the open field awareness to find holes in the defense and quickly churn up yards. The Chargers have met with Dwyer already and assuming they like what they see, he could be the guy for them at pick number 40.



3rd Round: CB Javier Arenas, Alabama



On talent alone, Arenas is a top 50 prospect. Not only was Arenas a very good cornerback at Alabama, earning all SEC honors, an All-America selection, as well being a semifinalist for the Jim Thorpe Award, but he was also a dynamic return man. His seven punt returns for touchdowns is an SEC record, and he also holds the total punt return yardage record as well. What the 5'9" 195lbs Javier Arenas lacks in size he makes up for with his love for the game and his versatility and willingness to help his team in any way he can. The Chargers love players who can contribute on special teams, and Arenas would certainly bring value there, along with being an almost perfect fit as a nickelback.



4th Round: OT Selvish Capers, West Virginia



A former tight-end turned Offensive Tackle, Selvish Capers is an impressive physical specimen with excellent mobility. However Capers could stand to bulk up as he is a bit light for his frame and position. Nonetheless, with development Capers does appear to be capable of playing tackle in the NFL. The Chargers like their mix of centers and guards, but lack true depth at the tackle position. Capers would be a nice developmental prospect at a premium position and could potentially be a starter down the road.



5th Round: QB Jonathan Crompton, Tennessee



The Chargers are now without quarterback Charlie Whitehurst, and have admitted taht they'd like to draft a young replacement. Jonathan Crompton never quite lived up to expectations but he does have prototype physical attributes and followed up a decent senior season with an impressive pro day. He figures to go off the board in the mid rounds and could be a steal in the fifth.



5th Round: RB Lonyae Miller, Fresno State



The Fresno State Bulldogs excelled at running the ball in a pro-style offense, and Ryan Matthews was certainly a big reason why but his teammate Lonyae Miller often goes overlooked. Miller rushed for over 2000 yards in his four years at Fresno State and maintained an average of 5.5 yards per carry. With an excellent size and speed ratio of 5'11" 221lbs with 4.5 speed, Miller projects to be a solid pro. He'd be a welcome addition to a bleak San Diego backfield.



7th Round: TE Nate Byham, Pittsburgh



At 6'4" 265lbs, Byham is an intimidating figure as a tight end and grades out highly as a blocking specialist. Playing at Pitt under the tutelage of former NFL head coach Dave Wannstedt, one would assume Byham would be able to quickly grasp blocking assignments and help early.



YOUR TAKE



Do you have a mock you'd like to share? Post it in the comments section below!