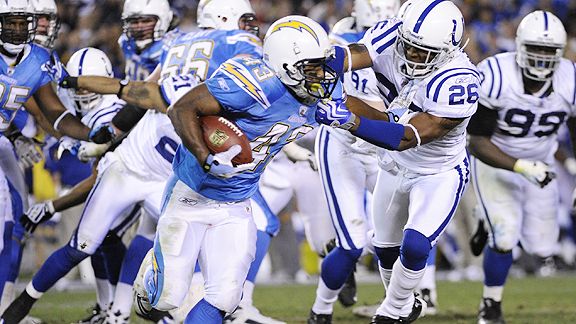 Just as the gates of free agency prepared to swing open, the Chargers made some bold, and surprising, moves; the release of Jamal Williams, trading Antonio Cromartie, and tendering Darren Sproles all come as a bit of a shock considering the team's offseason needs. At this juncture it would appear as though the Chargers' holes are as clear as ever, and the team looks prepared to head towards the draft with obvious needs and a tremendous amount of pressure to remain championship contenders.
REPLACING JAMAL WILLIAMS A DAUNTING TASK



Admittedly, the release of Jamal Williams comes as a considerable surprise. Likely a financially driven decision, it nonetheless caused more than a few to scratch their heads. Why jettison one of the best and most dominant defensive players on your team? Why let such a respected leader leave a locker room that would certainly benefit from the maturity and professionalism. While there is a chance the Chargers could re-sign Williams as a free agent, it risky proposition.

Conversely, the Chargers have extended offers to journeymen and aging vets such as Ian Scott, Travis Johnson, Antonio Garay, and Alphonso Boone. While these guys played admirably in 2009, they best profile as backups. The Chargers are still looking for a starting impact player along the defensive line.

Any way you look at it, the Chargers must address the defensive line in the draft (or free agency) or risk having an even worse defensive unit in 2010. It takes a special type of player to play in a three-man front, and the Chargers are hoping they can find one.




CHARGERS MUST VOID LEFT BEHIND BY ANTONIO CROMARTIE



Antonio Cromartie lost a tremendous amount of favor with the fans last year, and it appears that Chargers shared in that sentiment. Cromartie's lack of toughness and want-to didn't sit well with fans of the collision sport that is pro football.

Cromartie may have shied away from contact at just about every opportunity, but he still posses freakish athletic ability and can be a very good man-to-man cover corner. Cornerbacks like Cromartie are valued commodities, and while the Chargers seem to be ready to replace him with Antoine Cason, they'll now need to find at least a nickel corner.

Considering AJ Smith's draft history, he tends to place a high value on cornerbacks and may look to take one early.




CHARGERS IN THE MARKET FOR RUNNING BACKS



"We're going to be looking for running backs," AJ Smith proclaims. Not that it was any secret, of course. But as free agency starts and the draft approaches, if there was any question the Chargers would be shopping for backs AJ Smith's latest admission put those doubts to rest.

As of this writing, the Chargers have not signed or visited with any free agent running backs, and with each passing day their options dwindle. Thomas Jones remains a possibility, as do Larry Johnson, Willie Parker, Justin Fargas, and Jamal Lewis. But each of the aforementioned running backs is upwards of 30 years old and in the twilight of their careers. The Chargers would likely only sign one of these veterans to a one or two year deal as they look to find their long-term solution in the draft.

Having Darren Sproles back in the mix is good news for the offense and return game, but the Chargers don't appear to have changed their perception of the speedy #43; Sproles will continue to be the team's primary return man while serving as a change-of-pace running back and catching the ball out of the backfield. The team likely wont increase his carries by any significant number if they can avoid it.




YOUR TAKE



How did you react to the news of Jamal Williams' release? Between a $6 million franchise tag and a $7 million restricted tender, have the Chargers overpaid Darren Sproles over the past two years? Was getting a future 2nd or 3rd round draft pick good enough in exchange for Antonio Cromartie? Are you confident the San Diego Chargers front office has a plan in place to win a Super Bowl? Give your take in the comments section below!