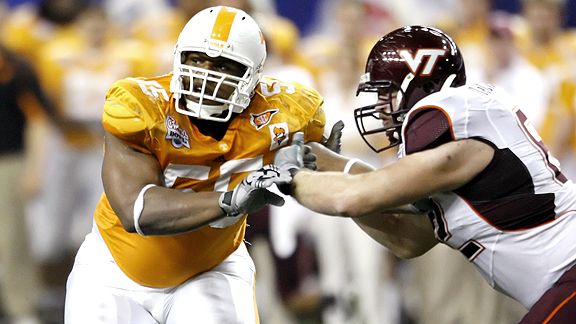 When former All-Pro nose tackle Jamal Williams was released from the San Diego Chargers, he left behind a big hole in the middle of the Bolts' defense. But perhaps that hole can be filled by another Williams. Tennessee's Dan Williams has seen his stock rise remarkably over the past year, as he now finds himself ranked as the top true 3-4 nose tackle in the 2010 NFL Draft. While the pairing is perfect, the Chargers must hope that Dan Williams is available to them down at pick 28.
Having met with Dan Williams at the Senior Bowl and Combine, the Chargers have gotten up-close and personal with their potential first-round target. Williams has meet with San Diego scouts and coaching staff, but they're obviously not the only ones interested in Williams.

While not a glamor position by any means, the nose tackle in a 3-4 is nonetheless a highly coveted commodity. It takes a unique individual and a rare combination of size and brute strength in order to play the zero technique.

"It's definitely a challenge I'm willing to take," Williams told BOLTHYPE.com "I played a little bit of zero technique this year, and I've played zero for both of my coordinators in college. I know that it starts up front, and nose is a key part of the defense. It's a challenge I can't wait to take on."

At 6'2" 327lbs, it's hard for Williams to go unnoticed. He's a load in the middle and can hold his own against double and triple teams. While you'll certainly see him making plays on the football field, chances are you'll also notice how much space he takes up in the huddle.

"I've never always been the biggest, and I've never always been the strongest. But one thing I can say is you'll always notice me out of everybody else on the football field. I'm going to always do something different like extra hustling. And if I have to over-power someone, I will. Facing a talented opponent motivates me to be a better player. I'm always up for the challenge, and I've always tried to be a hard-worker and a good player."

Hard work is what Dan Williams attributes the significant development from his junior to senior year. One of the knocks on Dan Williams has been an inconsistent motor and work ethic. There have been questions of maturity and 'want-to' - is he a one year wonder motivated by the prospects of NFL paychecks? Or is Williams committed to the game and his future career?

"I did a lot of maturing over my college years," Williams explains. "Going from my junior to senior years, we went through a lot of adversity when my coach got fired and having a new coaching staff. "

"I become more of a leader my senior year," says Williams. "I was trying to be an example to the young group of defensive lineman that we have at Tennessee now. I went back and watched my junior film, looking for things that I could do better. A lot of times I would see myself and say 'If you hustled a little more you could have made that play'."

"I wanted to go to a bowl game. I wanted to make sure our hard work at Tennessee didn't go to waste. I wanted to improve my game and I wanted to help my team win."

Playing for Tennessee, Dan Williams and his Vols faced some of the stiffest competition in all of college football. The SEC is widely regarded as the toughest conference in the nation, with powerhouse teams such as Florida, Alabama, and Tennessee fiercely competition for victories and recruits alike.

So did playing in such a conference help prepare Williams for the next level?

"Oh it differently helps," says Williams. "Just look at the offensive linemen from the SEC coming out in the draft this year. You've got [Maurkice] Pouncey from Florida, John Jerry from Ole Miss, Mike Johnson from Alabama. Going up against those type of guys every weekend, I really do feel [playing in the SEC] prepares you for the next level. Everybody in the next level is good and are hard workers, but not to many other conferences are producing this caliber offensive linemen year in and year out. It really helped me become a better player.

With his college career now in the books, the Senior Bowl and Combine wrapped up, and fresh off his pro day it would seem that Williams' next game would be the waiting game. With team visits being scheduled and the draft just a month away, Williams embraces the process.

"I'm just going to continue to work hard. I have no control of where I'll be drafted. I do feel I've left a pretty good impression on teams, but at the same time if they want to see one more thing, if they want to see something else out of me, I'll be glad to do it."

As for fans of the San Diego Chargers, we can only hope that Dan Williams falls to the 28th pick in the first round. The Chargers would love to have him, and as far as Dan is concerned, that feeling is mutual.

"I would definitely love playing for the Chargers. I've watched San Diego for years now. Growing up, I remember in the mid 90s when Junior Seau was playing MIKE linebacker I had posters of him in my room. I always hear San Diego is a beautiful place to live. The weather and scenery is beautiful and they have one of the best teams in the nation. I would definitely love it."