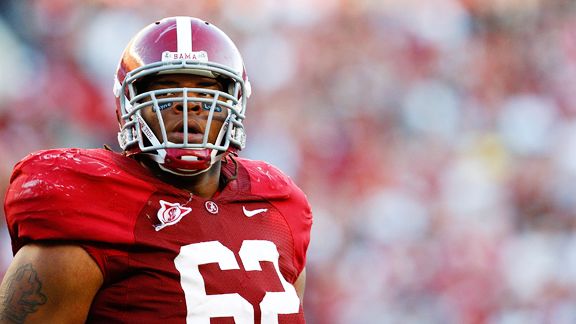 March 9th is going to be a big day for a very big man, as Terrence Cody and his Alabama Crimson Tide teammates host their annual NFL Pro Day. As one of college football's top programs, representatives from all 32 NFL teams are likely to be on-hand, and one of the things they'll all be wondering is just how much Terrence 'Mount' Cody weighs in at.
Dominant at times, Terrence Cody served as Alabama's nose tackle in Nick Saban's 3-4 defense, occupying multiple blocks and generally acting as an immovable object. At anywhere from 365 to 370 pounds, Cody was not easily lost among the many stars on the National Champion's defense.

As a pro prospect, Cody draws favorable comparisons to guys like Shaun Rodgers and Ted Washington with his massive size and incredible girth. However, showing up at the Senior Bowl at 370lbs didn't do him any favors. In fact, many began to slide him down their boards in the second round. Keeping his weight under control has been a struggle for Cody for most of his life, and NFL scouts began to question what his ultimate contribution to an NFL team would be.

At the Combine some weeks later, however, Cody showed up 16 pounds lighter at a much more digestible 354 lbs. That dedication to fitness boosted his stock a bit, even though he recorded the slowest 40 yard dash time of all defensive linemen.

And with Alabama's pro day fast approaching, Cody might actually be able to boost his stock even more if he shows up somewhere in the mid 340's. In fact, just showing he can maintain his Combine weight level will put many scouts at easy, possibly even the Chargers.

As the Chargers currently have no true nose tackle on their roster, they will likely look to draft one in April. Tennessee's Dan Williams would likely be their first choice, but where the Chargers are currently drafting late in round one, they would probably have a better chance of landing Cody than of Williams slipping to them. Also a potential consideration is a trade-down into the top of the second round where Cody possess the most value.

NOTE: I plan on breaking down Cody's game a bit more after I re-watch the National Championship game as well as the Senior Bowl. Check back next week for a scouting report. For now, check out his highlight tape:






YOUR TAKE



Should the Chargers consider drafting Terrence Cody? Is he worthy of a first-round pick, or should his weight fluctuations be a red flag? Is he worth a high draft pick if he is only a two-down player, or does his ability to clog running lanes make him a valued commodity? I'm interested in hearing your takes, so please drop a comment below.