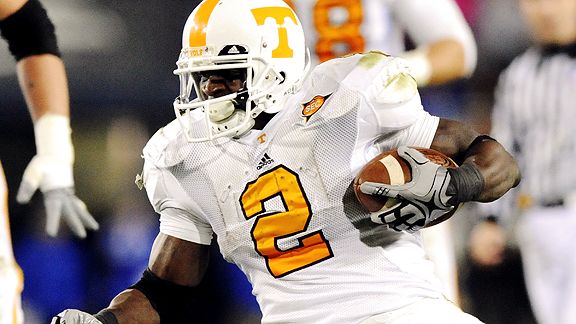 With the 2010 NFL Draft just a handful of days away, the San Diego Chargers are zeroing in on their approach come draft day(s). As they grade the players and arrange their board, let's take this opportunity to postulate how the early rounds will go for the Bolts.
ROUND ONE





PICK: Best defensive player available (CB, DT, DE)

- If the Chargers choose to sit and wait for their pick at 28 in the first round, I think the best option here would be to select the best defensive player available as ranked on their board. Certainly the Chargers greatest draft need is running back, but that does not necessarily predicate the selection of a running back with their first choice. AJ Smith has always approached his drafts valuing running backs in the middle rounds, and he likely won't deviate too much from that philosophy.

The Chargers greatest opportunity for improvement from last year to this year would be defensively. With the departure of Jamal Williams, Antonio Cromartie, and the uncertainty surrounding Shawne Merriman's long-term future with San Diego, the Chargers may be faced with the daunting task of replacing three Pro Bowl players on defense. Not resigning Igor Olshansky has proved to be a mistake, and the Chargers still have not successfully replaced him. As much as I have been disappointed with the lack of 'want-to' in Antonio Cromartie, I didn't necessarily think it was the best decision to move him at this juncture. How is your defense any better without young, talented cornerbacks? Hopefully Antonie Cason, Nathan Vasher, and Donald Strickland will help shore up the secondary, but don't rule out a cornerback in round one. In what is increasingly becoming a passing league, teams are desperate for good cornerbacks.



ROUND TWO





PICK: Running Back

- It is likely going to be in round two where the Chargers draft their primary running back of the future. The top of round two will be a fantastic place to find a legitimate workhorse running back and will provide tremendous value as well in regards to contract size. If the Chargers stay at 40, they'll likely have their pick of running backs not named CJ Spiller - Ryan Matthews, Jonathan Dwyer, Jahvid Best, Ben Tate, and Montario Hardesty could all be available there at the top of round two. While AJ Smith typically waits until the third, fourth, and fifth rounds to start targeting running backs, this year is obviously different. Running Back is the team's most obvious need so it's likely the Chargers pick one early.



ROUND THREE





PICK: Best offensive or defensive lineman available (OT, DT, DE)

- The Chargers have obvious needs along their defensive line, and could also use help at offensive tackle. Current starters Marcus McNeill and Jeromey Clary are playing on one year tenders and do not have long-term deals in place, making their futures as San Diego Chargers questionable at this point. Additionally, the Chargers are very thin at offensive tackle and could use depth there. If the Chargers don't draft a running back in the first two rounds, they will have no choice but to draft one in the third round otherwise they'd be putting the offense in severe jeopardy. The third round is also a good place to find a developmental nose tackle prospect, so the Chargers could look at a Cam Thomas, Terrell Troup, or Linval Joseph here.



YOUR TAKE



We've outlined how we envision the first three rounds to play out for the Chargers, what's your take on the situation. What positions do you think the Chargers will be targeting in rounds one, two, and three? Sound off in the comments section below!