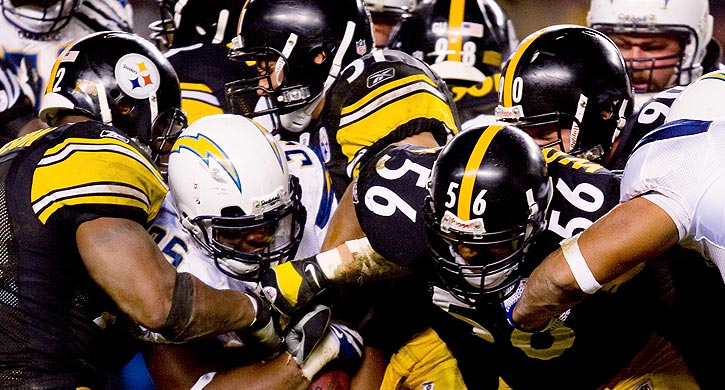 Maybe you have heard this one before: the Chargers had one of the worst rushing attacks in the NFL in 2009, ranking 31st in the league (a slight improvement from their last-place ranking earlier in the year). And, as Chargers fans can attest, it really was as bad as it sounds.
Future hall of fame running back LaDainian Tomlinson was too-frequently stopped at the line of scrimmage. Six-million dollar (now seven-million dollar) back-up Darren Sproles was a great asset to the passing game, but was forgettable running the ball out of the backfield. The rotating fullbacks, while huge contributors on special teams, did nothing to make fans forget about the likes of Lorenzo Neal, let alone Fred McCrary.

Yet somehow the Chargers still went 13-3. It makes me wonder just how important the rushing offense is to this Chargers team. And if it's important, can the team make the necessary changes to improve upon last year's performance?

In 2009, the only Chargers back who averaged more than four yards per carry was Mike Tolbert, and he only had 25 rushing attempts, usually in clean-up duty at the end of a blow-out. With four other running backs who average less than four yards per carry (some closer to three yards per carry), doesn't it make you wonder if a new running back is not the sole solution to our rushing problems?

It wasn't long ago that practically everyone who watched football knew the Chargers number-one need was an offensive tackle. We went through the 2009 draft practically ignoring that position, and all but ignored it in free agency as well. Before you knew it, the 2009 season started, and offensive linemen began dropping like flies. At different times Hardwick went out, Vasquez went out, Clary went out, McNeill was ailing, our depth was raw, and the offensive line spent the bulk of the season trying to adapt.

Do you want to fix the running game in 2010? I say you focus less on your running back and worry more about your injury prone center, pass-block-only right guard and below-average right tackle, and your overall depth across the line. Or, you admit that the Chargers can pretty much throw the ball against anyone and stop pretending that a 1st round running back is going to make an average offensive line better.