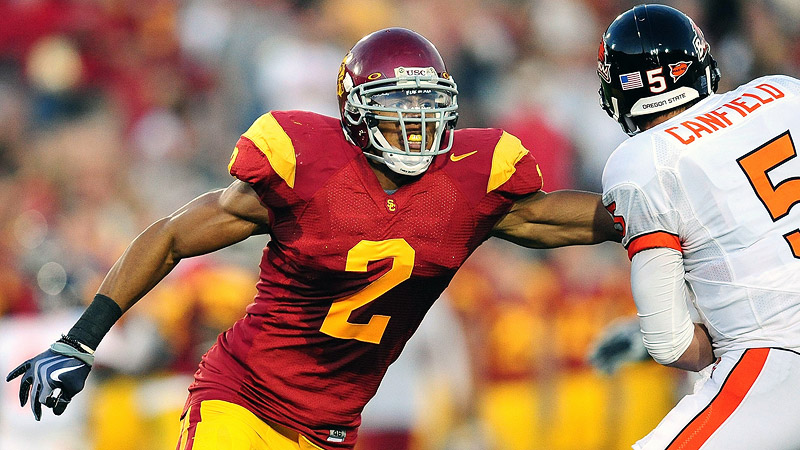 The NFL Draft is almost here, and all of the mock drafters are putting their final touches on their predictions for what the Chargers will do in what has become a very important draft for the team. However, there are a couple of things that make predicting Chargers' draft picks difficult.
First, picking at #28 in the first round, it's tough to know who will be selected before the Chargers. Will Dan Williams be gone before #28? Probably. Will Ryan Matthews be gone? I think so. If the players you really want are gone when it is your turn to make your pick, do you settle for the next best player at a position of need, or do you start looking at the best player available regardless of position?

That leads to the second problem, that being AJ Smith's unpredictability. If most "experts" predict that AJ will select a nose tackle or a running back in the first round, I can almost guarantee that he will go in another direction. And that leads me to my own 2010 mock draft.

Rob has done a great with the official BOLTHYPE mock draft picks, giving us a lot of different possibilities. Here is my best guess for the Chargers draft this week:



Round 1 - S Taylor Mays, USC



-I hear he has slid down draft boards for the first round, and he can put fear into anyone running across the middle. And remember, I am guaranteeing that AJ will not pick a NT or RB in the 1st round.



Round 2 - NT Cam Thomas, North Carolina



-Cody may be available here, but I don't know that AJ Smith wants to deal with the potential problems that come with him.



Round 3 - RB Montario Hardesty, Tennessee



-Don't be surprised if the Chargers trade up for Ben Tate if he is available early in the 3rd, whoever this pick is, I expect it to be a running back.



Round 4 - LB Phillip Dillard, Nebraska



-Big and athletic, he would be a contributor on a team that may lose Dobbins and/or Siler within a year.



Round 5 - OT Sam Young, Notre Dame



-A 6'8" monster, but he never seemed to live up to his full potential. Luckily he doesn't have to in 2010.



Round 5 - RB LeGarrette Blount, Oregon



- Should probably go higher, but off the field issues may see him drop into a position of good value for the Chargers.



Round 7 - CB Bryan McCann, SMU



- Yes he is a CB, but more importantly he could be a replacement for a departing Darren Sproles (you heard it hear first!).




YOUR TAKE



What is your take? Will Taylor Mays be available for the Chargers in the first round? Should they go best player available, or do should they draft strictly based on need? Leave your comments below!