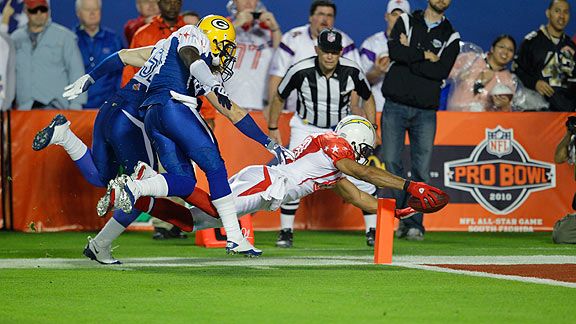 Throughout the offseason and heading towards the 2010 NFL Draft, it was clear to us that the Chargers had serious needs at two critical positions; Wide Receiver and Offensive Tackle. In our opinion, those two needs fell just behind Running Back and Defensive Tackle and were clearly positions that needed to be addressed. A big reason why we listed Offensive Tackle and Wide Receiver as needs was the fact that Marcus McNeill and Vincent Jackson were approaching the last season on their contracts and the team had little to no depth behind them. Fast forward to today, and the Chargers find themselves a much worse team in 2010 than in 2009.
CHARGERS FAIL TO SIGN JACKSON AND MCNEILL TO LONG-TERM DEALS



The Chargers had plenty of opportunities to resign their young star players in McNeill and Jackson, and yet decided to execute the RFA tender option. This backfired on them, as it appears likely both players will sit out a significant portion of the 2010 regular season.

As we've mentioned many times in this Chargers blog, we felt signing Vincent Jackson was a top priority for the team and could likely have been signed to a deal lower than his talent level would command due to the off-field issues of DUI arrests. The Chargers dropped the ball here and Philip Rivers will be without his number one receiver for a majority of the upcoming season.



CHARGERS FAIL TO DRAFT A RECEIVER AND OFFENSIVE TACKLE



Knowing the contracts of Jackson and McNeill were due to expire next year, one would think the Chargers would be concerned by the lack of quality depth at their positions. Apparently not, because the Chargers failed to draft a wide receiver or offensive tackle. Instead, the team spent two quality draft selections on what could be viewed as luxury picks at inside linebacker and safety. The Chargers had young, solid players inside at linebacker and drafting one in the third round was unnecessary. Now this is not a jab towards Donald Butler who I expect to be a good player, but rather a criticism of the front office who don't seem to have their priorities in order. As for the rookie safety Darrell Stuckey, he too seems like a player with a bright future but the Chargers have a bunch of safeties on the roster as it is. Had Kevin Ellison not been caught with an illegal amount of Vicodin he would have probably been the starter this year. As it was, he was a vast improvement over Clinton Hart and would at the very least been serviceable this season.

With both the inside linebacker position and the safety position, those are two areas in which the rest of the defense can cover for any deficiencies. Having playmakers there isn't as important as having playmakers at wide receiver and left tackle. There's a reason why wide receivers and left tackles are two of the highest paid positions in the NFL.



TEAM SATISFIED WITH THE DEPTH?



Are the Chargers satisfied with the depth they have behind Vincent Jackson and Marcus McNeill? Do they hope to convince the fans that the team will be just fine without their two young Pro Bowlers and will not miss a beat? Former first-round pick Buster Davis will be lucky to earn the #3 Wide Receiver position, let alone compete for the #1. And while recent free agent signee Tra Thomas looks like a good pickup on paper, how much does this guy have left in the tank? And had they not signed Thomas, who would have played in McNeill's place? Is the team honestly confident they made the right moves this offseason? Personally, I have my doubts. I'll continue to support my team through thick and thin, but I am allowed an opinion and in my view, the team mishandled their offseason and took some huge gambles, not to mention trading up to the 12th selection in the first round at the expense of some quality draft picks/players.



YOUR TAKE



What's your take on the how the front office has approached this offseason? Do you still feel confident this Chargers team is Championship-caliber? Or do you think they lost too many star players to be able to bounce back this year? Leave a comment below and let us know what you think!