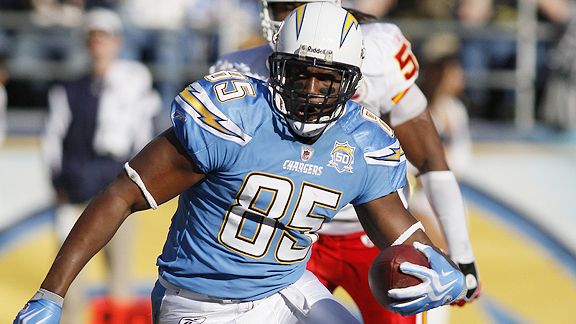 The Chargers announced today that Antonio Gates has agreed to terms on a 5-year contract extension that keeps the all-pro tight end in San Diego through the 2015.
"Antonio is a special player and person. He is everything we are looking for in a Chargers player," said General Manager A.J. Smith. "His talent and contributions to our team speak for themselves. His work ethic and desire to be the best are unmatched. He has been a major part of the success we have had over the past several years, and we are thrilled he will continue to be with us for years to come."

ESPN's NFL insider Chris Mortensen has learned some of the details of the new contract, said to be worth $7.235 million per season, with $20.4 million in guaranteed money.

Gates, who turned 30 last month, has shown no signs of slowing down; battling through nagging injuries Antonio nonetheless has been a critical component to Quarterback Philip Rivers' success and indeed the success of the entire offense. With Vincent Jackson holding out for a majority of what could be his final season in San Diego, it was important for the Chargers to keep Gates in the fold, no matter the cost; Antonio Gates is now the highest paid Tight End in the National Football League.



YOUR TAKE



Share your take on Antonio Gates' new deal and who you think is next in line for a contract extension in the comments section below!