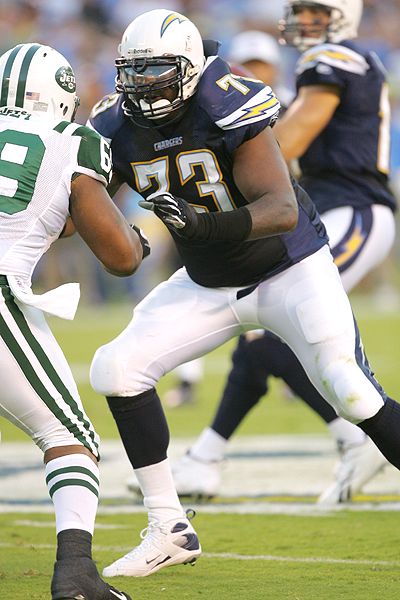 Talking about anything and everything Chargers, it's another edition of Lightning Strikes with Jeff Williams...
There has been a lot griping and complaining about the handling of the Marcus McNeill and Vincent Jackson contract situations, but I find the Shawne Merriman story to be just as interesting. He was offered a one-year tender, just as McNeill and Jackson were, but unlike these other Pro Bowlers his contract could not be significantly reduced after the June signing deadline. Admittedly, Merriman has a lot to prove to the league and his fans, many of whom who have become disappointed in his off the field distractions and lack of QB sacks. He knows he has to get back on the field to prove the critics wrong.

Knowing how important this season will be to Merriman's future, it seems that the only person who does not want to see Lights Out in camp is...Merriman himself. Veterans reported to camp just less than one week ago, yet Merriman sits (if you call maintaining an intense personal training regimen sitting) at home with no concrete plan for when he will return to camp. Does he want more money and/or a long term contract? Probably, but that's not really what he is asking for at this point in time. What Shawne Merriman is really looking for is a little love. He wants a commitment from the team to keep him in San Diego for a full season or to at least move him before the season starts. And until he gets that commitment, at least for the time being, he remains the biggest name missing amongst players not named McNeill and Jackson.

Many fans have expressed their unhappiness with Merriman's stance, and I'm sure his teammates would like to see him in camp. But personally, I think Merriman's plan is close to brilliant. In my opinion, the longer Merriman sits out, the harder it may be for the Chargers to trade him. If there is nothing to use to evaluate his performance in the preseason, it makes him even less valuable in a potential trade. I don't foresee the Chargers trading Merriman for a late round pick, and signing right before the regular season opener may make a trade equally difficult as the season progresses. If Merriman's actions lead to a season-long stay in San Diego leading the Chargers' defense, then what did he really lose by missing training camp, let alone a few preseason games?

--

Speaking of Chargers players not in camp, the absence of Marcus McNeill may cause Chargers fans a lot of anxiety this season. Veterans veteran Tra Thomas was signed to provide help at the left tackle position, but it has been looking more and more like Brandon Dombrowski will be the Chargers starting left tackle, especially after Thomas' recent knee surgery. Nothing against Dombrowski, but do you want him protecting a franchise QB on his blind side? Here's to hoping that AJ Smith pulls the two sides together and gets a deal done.

-

It may be considered ill-mannered to find joy in another team's injuries, but I couldn't help taking a small bit of pleasure in the injury bug sweeping through the Denver Broncos training camp. The Broncos top two running backs, Knowshon Moreno and Correll Buckhalter, are both out with injuries (although both are expected to be ready for the preseason). Starter Moreno has an injured hamstring, typically a nagging injury for any player but more so for a running back. Even more recent and easily more devastating, outside linebacker Elvis Dumervil will miss anywhere from four-months to a full season with a torn pectoral muscle. The injury will require surgery and will sideline an important piece of the Broncos defense for a significant portion of the season. And any loss for the Broncos is a benefit to the Chargers.