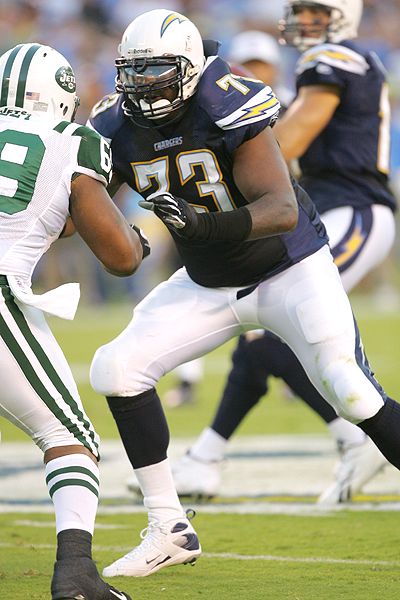 The San Diego Chargers' missing left tackle returned home Saturday when Marcus McNeill signed his contract tender, allowing him to resume play after a 3-game Roster Exemption suspension. With McNeill back on the team, why am I still wondering how much better the Chargers really can be?
I am a huge fan of Marcus McNeill and one of the biggest proponents of signing the Pro Bowler to a long term contract. With all of the roster changes and offseason drama that the Chargers faced in the most recent offseason, McNeill's absence was what I believed to be the biggest thorn in the Chargers' side in their pursuit of postseason success. It has been my belief that the Chargers biggest offseason need was more offensive line depth, not less, and their missing left tackle made a Chargers' weakness significantly worse.

So with McNeill having already missed the first three games of the season, what can we expect him to add to the Chargers' number-one ranked offense? First things first, one more Pro Bowl player makes everyone better. As good as Brandyn Dombrowski has been, you can't replace the camaraderie that Kris Dielman had built with McNeill in just a few games. You also have to respect McNeill's pass blocking ability, which is second to none on the Chargers' offensive line. With Philip Rivers at the helm, this offense will remain a pass-first offense. You have to have a guy like McNeill manning Rivers' blind side.

But back to my original question: how much will the signing of Marcus McNeill really matter for the Chargers this season? The Chargers are unquestionably better with him. But with this offense, is the addition of McNeill like adding more cylinders to the engine of your V10 Lamborghini? With a V10 or V12, your still going faster and stronger then most anything else on the road. I hate to say it, but it's likely that the Chargers would have started 1-2 with or without McNeill.



Lightning Strikes



* Don't get me wrong, I was very happy when I heard the news that McNeill was back. But what I'm happier about was hearing the news that the Chargers' disaster of a special teams unit got a lot of attention Monday after their putrid performance against Seattle. It's unfortunate that due to roster turnover and injuries, the Chargers depth has been sorely depleted, creating a huge experience gap on special teams.

* I picked the Chargers to go 11-5 this season. I assumed losses in three of their five games from Week 7 to Week 12, and guessed that a couple more losses could likely come at the beginning or end of the season. I thought this might have been the year that the Chargers got off to the fast start that fans have hoped for since the departure of Marty Schottenheimer. So much for that idea.

* I still think that the Chargers will go 11-5. The bigger question is, can the Chiefs do better? The Chiefs' Week 3 win over San Francisco was pretty impressive. In looking at the rest of their schedule, a 12-4 record would be tough to accomplish, but not impossible.

* The final question: Is Darren Sproles earning his $7 million contract? Discuss your thoughts on McNeill, Sproles, and more below. And post your name so we know who you are!