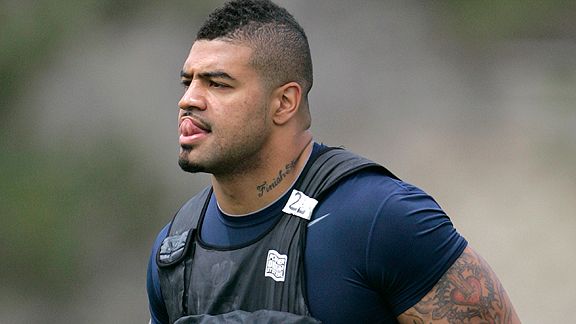 The record may not reflect it, but the San Diego Chargers find themselves with the top ranked offense and top ranked defense in the NFL through the first four games. The stellar offense is par for the course these days, but the top ranked defense has at least a few NFL experts surprised. Combined, this Chargers team is proving that it can matchup with any other team in the NFL.
And Chargers fans, you better enjoy it while it lasts.

The 2010 version of the Chargers has weathered the loss of a few key players in the offseason, and has overcome injuries to starters Shawne Merriman, Stephen Cooper, Louis Vasquez, and Ryan Mathews. The depth on this team, something I questioned coming into this season, is proving to be up to the challenge at this point in the season. But don't get too caught up in that warm and fuzzy feeling.

The Chargers have 16 key players due to enter restricted or unrestricted free agent status after the 2010 season. Guys like Merriman and Cooper, as well as Kevin Burnett and Eric Weddle could leave San Diego for greener (meaning more lucrative) pastures in another city. That's the heart of the defense, and could be a crushing blow to the Chargers plans to contend beyond 2010.

Other key players who could be leaving after 2011 (depending on the details within a new NFL labor agreement) include:

Marcus McNeill
Vincent Jackson (as if his absence was not already felt)
Darren Sproles
Malcolm Floyd
Legedu Naanee
Jeromey Clary
Jacque Cesaire
Travis Johnson
Brandon Siler
Paul Oliver

It might be wishful thinking to sign even half of the players who could possibly exit the team after this season. Merriman is likely gone. Perhaps even a high-priced role player like Sproles will leave after 2010 as well.

As good as AJ Smith has been at filling holes on the roster that need to be filled, no one can maintain a high level of success forever. At some point growing pains have to catch up to the Chargers. Could 2011 be that year?

Giving credit where credit is due, as Smith has been stockpiling draft picks in 2011, knowing that there are bound to be at least a few spots to fill on this roster next year. In 2011, the Chargers already have 1st and 2nd round picks, as well as two 3rd round picks, and a conditional 2nd or 3rd round pick from the Jets for Antonio Cromartie. That's five picks in the first three rounds, and props to Smith for stocking up. Imagine how much better it could have been had Smith pulled the trigger on a Jackson trade.

I don't mean to be all gloom and doom on the hometown team, because if anyone has proven to keep a roster stocked with talent it's AJ Smith. But this team has not seen anything like the possible exodus of players coming in 2011. If ever there was a year to get their act together and make a push into February, this is most definitely the year.

Knowing that the Chargers can't sign everyone, who would you work the hardest to sign and who would you most quickly show the door after 2010?