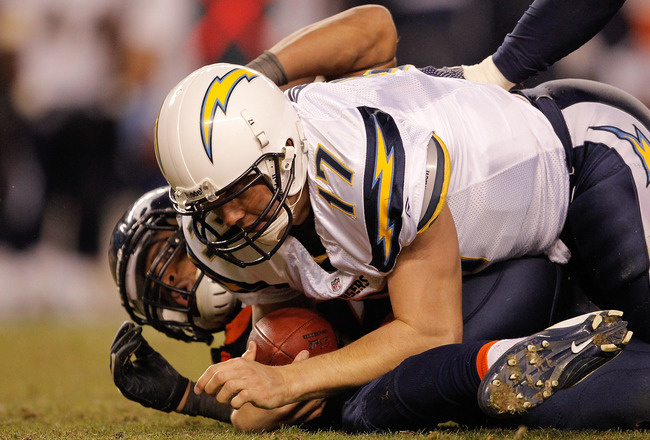 There have been a variety of moments that have lead the Chargers down a path of mediocrity. Here are the top three crushing moments. Warning to all Charger fans, the following reminders may induce feelings of sadness, anger, disappointment, and/or the addition of bald spots and grey hair. How much better does 8-6 or *gasp* 9-5 sound to Charger Fans. If the Chargers fail to make the Playoffs, here are the most critical occurrences that contributed to Philip Rivers and company's early vacation.
1.) Bears 10 at Broncos 13 Week 14: Barber and Prater
Marion Barber and Matt Prater. Each at opposite ends of the spectrum. Both individuals are equally responsible for in-explainable lows and breathtaking highs during this thriller. Let's start with the latter. With 8 seconds left, Prater ties the game at 10-10 by kicking a 59 yard field goal with the ease of an extra point. The kick, which tied his career long was followed shortly by a comparatively diminutive 51 yard kick that was converted easily with his new found confidence. While Prater beat the odds by kicking not one, but two 50+ yard field goals in the clutch, he would never of had the opportunity to do so, if Matt Forte was healthy. Facing a 2nd and 10 after the 2 minute warning, the Bears ran a stretch play toward the Broncos sideline. Without timeouts, Marion Barber and the Bears offense needed to prioritize staying in bounds, and were unable to do so. After a 6 yard gain, Barber stumbled out of bounds, essentially saving the Broncos 35 seconds, more than enough time for Tebow Magic to ensue after a 3rd down stop. Later in Overtime, the Bears once again had a chance to escape with a Win. Already in field goal range and driving down the field, Barber failed to secure the football on what initially looked like a run that was going to seal the game in Chicago's favor. The ball was stripped as Barber was about to break to the second level, and with a Broncos recovery, momentum would take care of the rest. This allowed the Broncos to move to 8-5 and now currently need just one more win in its final two games to eliminate the Charger's from AFC West Title Contention.
2.) Chargers 20 at Chiefs 23: Rivers Fumbled Snap
Personally, my brain chooses to "not respond" in similar fashion to a struggling internet browser whenever I try to comprehend this play. They NEVER have issues with snapping the football. For the duration of Philip's tenure, Nick Hardwick and his snapping ability has never been a problem, and since this isolated incident, has not been a problem. At the worst of times, as the Chargers were setting up for a game winning chip shot field goal, Rivers and Hardwick botched a game that was won away.
Poof. A Win becomes a loss, just like that.
3.) Raiders 24 at Chargers 17: Raiders Win in SD
Who runs the AFC West? Since 2006, that answer was quite simply the San Diego Chargers. That answer today is more muddled. A Game that I think most Charger fans were quite comfortable going into on paper, this Thursday night performance left all Charger fans shaking their head. The San Diego defense made Carson Palmer look like Tom Brady 2 weeks after he joined the organization. Their were few positives to build on, the offense struggled all night to move the ball and of course...turnovers played a factor. The Raiders left San Diego atop the AFC West, but more importantly left San Diego thinking a once unthinkable thought, that the west was up for grabs.
What other moments have seemed to doom the 2011 Chargers?